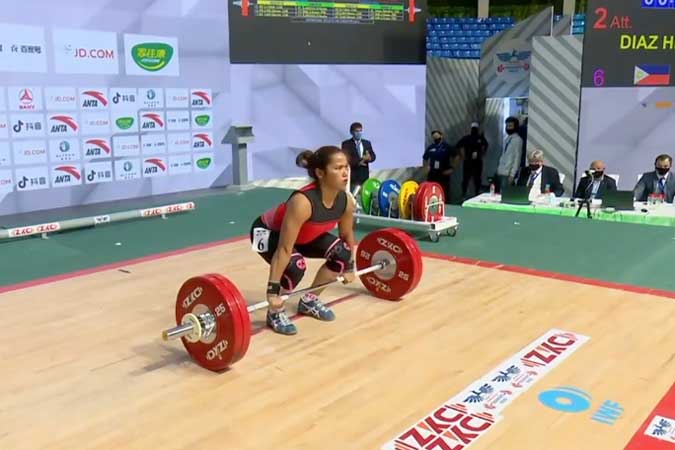 By Michael Angelo S. Murillo, Senior Reporter
IT took a while for Filipino weightlifter Hidilyn Diaz to book a spot in the Tokyo Olympics this year. So when it was made official that she had earned a spot in the quadrennial Games, she was very thankful.
Ms. Diaz, 30, officially booked a spot in the rescheduled Olympics by competing in the ongoing Asian Weightlifting Championships (AWC) in Uzbekistan. It was the last requirement needed for the Zamboanga City native to make the trip to Japan for the Summer Games happening from July 23 to Aug. 8.
Tokyo will be the fourth Olympics for Ms. Diaz after Beijing (2008), London (2012), and Rio (2016), where she won a silver medal.
"I'm very happy and thankful to be given the opportunity to qualify for my fourth Olympics despite the challenges and the delay because of the pandemic. It is an honor to represent the Philippines again," said Ms. Diaz in an online interview with BusinessWorld on Monday following her bid in the AWC.
She went on to say that their road to qualifying for this year's Olympics was tough as they in "Team HD" had to grapple with the limitations presented by the pandemic and make a lot of adjustments in her training and preparation with the Olympics being postponed in 2020.
Ms. Diaz, however, said that all did not go to waste as these provided many lessons for them moving forward.
"We learned a lot from what went through. All Olympics are special because all have their own struggles and challenges. This one is special in its own way. I'm focusing on it right now as I go for my dream of winning a gold medal," said Ms. Diaz, whose team, which includes strength and conditioning coach Julius Naranjo and Chinese weightlifting coach Gao Kaiwen, is currently based in Malaysia.
In the AWC in Uzbekistan, Ms. Diaz narrowly missed a podium finish, ending up fourth in the women's 55-kilogram category.
Ms. Diaz finished with a total of 212 kilograms, a kilogram down of bronze winner and hometown bet Muattar Nabieva.
She lifted 94kg in the snatch and 118kg in the clean and jerk.
China's Liao Qiuyun and Li Yajun finished one and two in the competition. The former finished with a total of 222kg while the latter ended up with 221kg.
Despite falling short of landing on the podium, Ms. Diaz was not totally down on herself, looking at it as an opportunity to work on her game and get better.
"For me, it's okay. The Asian Weightlifting Championships was a tune-up for us. If we had mistakes, we must address them so that come the Olympics, we have already adjusted and are ready," she said.
The Olympic weightlifter said they will continue their training in Malaysia and head for China in the weeks leading to the Tokyo Games.
Ms. Diaz became the country's seventh representative in Japan after pole-vaulter Ej Obiena, gymnast Caloy Yulo and boxers Eumir Felix Marcial, Irish Magno, Nesthy Petecio, and Carlo Paalam.
CONTINUED SUPPORT
Meanwhile, PLDT and Smart reaffirmed their commitment of support to Ms. Diaz and lauded her effort in booking a spot in the Olympics.
Ms. Diaz is a beneficiary of the MVP Sports Foundation (MVPSF), chaired by Manuel V. Pangilinan, who is also head of PLDT. The MVP Sports Foundation is an organization that supports Filipino athletes as they train to bring honor to the Philippines in their respective sports.
"We have always believed in the importance of sports in nation-building, and Hidilyn has given us another reason to be proud as Filipinos. We are continuously supporting her in her journey to the Olympics, as she joins the roster of Filipino athletes who will be representing the country in this much-awaited sporting event," said Alfredo S. Panlilio, Smart Communications president and CEO and PLDT chief revenue officer, in a statement.