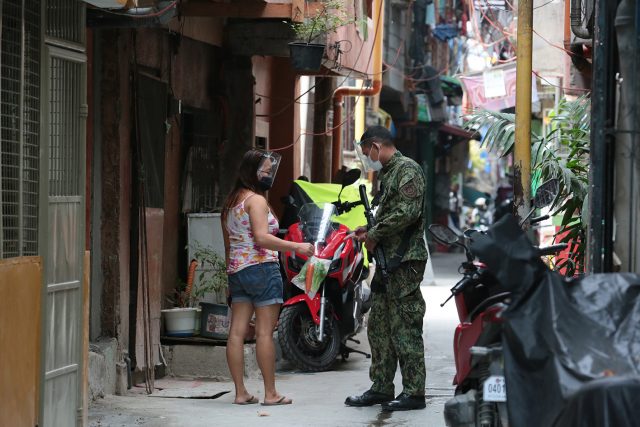 THE ECONOMY is expected to post another contraction of minus 1.5% in the second quarter after the reimposition of the strictest lockdown settings, threatening the likely gains from the first three months of the year, Pantheon Macroeconomics said.
In a note issued Monday, Miguel Chanco, the independent research house's senior Asia economist, said Pantheon increased its gross domestic product (GDP) forecast for the first quarter to growth of 2.2% from 1% previously due to an uptick in household spending.
If realized, the upgraded growth forecast would represent a rebound of sorts from the minus 8.3% growth posted in the fourth quarter.
Mr. Chanco said new lockdown at the start of the second quarter will likely dampen private consumption once more, supporting Pantheon's view of an inevitable "double-dip" in GDP, in which the economy resumes contracting after a short-lived recovery.
Pantheon Macroeconomics expects the second quarter contraction to be driven by an estimated 7% contraction in private consumption during the quarter.
"The likely strong hit from the rapidly escalating second wave of COVID-19 implies that the recovery in household spending may need to start from square one," Mr. Chanco said.
Mr. Chamco said the expected rise in household spending was supported by recovery in imports.
Merchandise imports grew 2.7% to $7.6 billion in February, bouncing back from the 12% decline the month before.
Pantheon expects goods imports to have risen by 7.4% in the first quarter against the previous three months, accelerating from the 4.2% gain in the fourth quarter.
He said there might have been a "rapid evaporation of pent-up demand" in household spending, which accounts for 70% of the broader economy, after it bounced back in the third quarter, though the rebound gradually lost momentum.
"A number of factors have weighed on households since the recovery began, including a marked acceleration in inflation, a stagnating labor market, and the massive drawdown in savings last year," he said.
The Philippine Statistics Authority will report first quarter GDP print on May 11.
The government is targeting 6.5-7.5% growth this year to bounce back from the record 9.6% contraction in 2020.
The Development and Budget Coordination Committee is scheduled to meet this month to review macroeconomic assumptions after the recent spike in coronavirus cases and the renewed lockdowns.
The lockdown restrictions in Metro Manila, Bulacan, Cavite, Laguna and Rizal were eased on Sunday but stay-at-home orders and curfews remain, while operations of businesses are still limited.
On Monday, the Health department reported 11,378 new infections to bring the total count to 876,225. Deaths overall hit 15,149 after 204 new deaths were recorded that day.
"For now, our base case is that a meaningful relaxation of curbs is unlikely to take place until May, at the earliest," Mr. Chanco said. — Beatrice M. Laforga