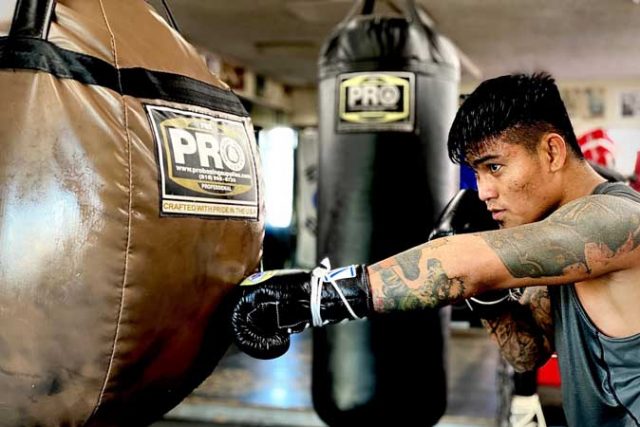 By Michael Angelo S. Murillo, Senior Reporter
TOP Filipino boxers Jerwin "Pretty Boy" Ancajas and Mark "Magnifico" Magsayo gave the country twin victories in their fights at the weekend; performances that had one local fight analyst going away impressed.
Part of Showtime Boxing's offering at the Mohegan Sun Arena in Uncasville, Connecticut on Sunday (Manila time), Messrs. Ancajas and Magsayo were dominant in their respective bouts and churned out convincing victories.
Davao del Norte native Ancajas was a unanimous decision winner over Mexican Jonathan Javier Rodriguez and retained his International Boxing Federation (IBF) super flyweight title. Boholano Magsayo, for his part, beat American Pablo Cruz by way of a fourth-round technical knockout.
The wins came after the Filipino fighters worked their way through the limitations and challenges presented by the pandemic, and in the case of IBF champ Ancajas, a long wait that lasted for over a year.
In an interview with BusinessWorld following Sunday's bouts, fight analyst Nissi Icasiano shared that Messrs. Ancajas and Magsayo had it solid and should see their push forward benefitting from it.
"What surprised me in this particular fight of Jerwin Ancajas was the way he fought. Usually, Jerwin takes a methodical approach, breaking down his opponent brick by brick in every round before fishing for the finish once he sees his opponent is ripe for the picking. In this fight, he stood toe-to-toe and traded hard blows in the pocket," said Mr. Icasiano of Mr. Ancajas, who recently signed with Al Haymon's Premier Boxing Champions (PBC) after years of being with Top Rank of Bob Arum.
"In my opinion, he and his team took a different route to make an impression. It's his first fight under the PBC banner and it's his first fight in more than a year. Plus, it was aired on Showtime. It's a big risk, but I am glad it paid dividends in the end. It's not an approach that I would recommend for Jerwin, but if the intent was to put the entire division on notice and open the doorway to fight the other champions at 115 pounds, he did accomplish that in the fight. On the flipside, PBC saw their ROI (return-on-investment) in Jerwin," he added.
Presenting the perfect foil for Houston fighter Cruz, Mr. Icasiano said he was not totally surprised that Mr. Magsayo dominated the way he did.
"For Magsayo, I already knew the style of his opponent would favor him in the fight. The result of bout didn't come as a surprise."
The analyst went on to underscore that credit should also be given for both fighters' teams for preparing their wards well amid the prevailing conditions with the pandemic.
After fighting last year, Mr. Magsayo (22-0) stayed in the United States to train under Freddie Roach and Justin Fortune while Mr. Ancajas (32-2) was in the US since last year, training with Olympic-bound Eumir Felix Marcial and Jonas Sultan and under the watch of coach Joven Jimenez.
So what is next for the two fighters?
"For Magsayo, it most likely puts him in a title eliminator next. Magsayo is in the Top 10 of four governing bodies, but he ranks higher in the IBF. I think No. 5 if I am not mistaken. So a battle for a possible title shot in the future may be on the horizon," said Mr. Icasiano of featherweight Magsayo, who with his latest victory won his second fight under Manny Pacquiao's MP Promotions with whom he signed with last year.
The case of Mr. Ancajas is trickier, the analyst said, given the limited fighters in his division under the PBC roster. But after winning his fight, the IBF champ should earn consideration for more top-class fights. Mr. Icasiano, too, said moving up in division is not a bad move for the Filipino fighter.
"Jerwin is in a tricky situation. The only two 115-pounders I know on the PBC roster at the moment are Angel Barrientes and Koki Kameda. The division is obviously shallow. If he moves to 118, Jerwin will get more competitive matchups under the PBC banner," the analyst said.
"Right now, I don't see Jerwin fighting in a unification title fight against either Chocolatito (Nicaraguan Roman Gonzalez) or [Mexican Juan Francisco] Estrada unless Al Haymon will pull some strings to make it happen. But the most feasible fight to make if they wish to see a champion vs. champion at 115 pounds is against Kazuto Ioka."